Laura Karoline Photography's Photo Studio is located at 404 E. Chatham St, Cary NC 27511.
Many of my clients that I photograph have never been in a photography studio before. Understandably, people often aren't sure what to expect when they show up to their session! I would like to share some images of my cozy space to show you where the "magic" happens! My Cary baby photo studio is where all of the studio sessions take place. This includes the mini newborn sessions, full newborn sessions, milestone baby sessions, and cake smashes. My photography studio in Downtown Cary serves the entire Raleigh area and is in a convenient location.
Cary Baby Photo Studio
My Cary baby photo studio is located in downtown Cary near Raleigh, NC. I have had clients from all surrounding areas, including Raleigh, Durham, Chapel Hill Holly Springs, Apex, Fuquay Varina, Wake Forest, and beyond.
I have a cozy couch and sitting area where you can get comfortable and relax! You'll be close enough to see everything I'm doing while I am working with your newborn, but you can sit back and take a breather. Parents have even fallen asleep during their newborn sessions!
All props are included during your newborn session. I have all colors and tons of props, and everything is discussed before the session. This is just a fraction of what I have- headbands, bonnets, and a few larger props are located in the storage closets in the studio.
The posing table is where many of the sweet newborn poses are done! It is covered in several layers of thick blankets, so it is nice and soft for baby.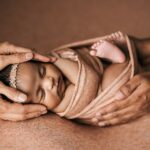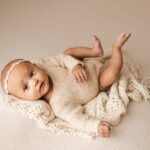 This is the space where prop photos, milestone photos/cake smashes, and family photos take place. When the curtain is pulled, it creates a faux window, which is a lovely effect.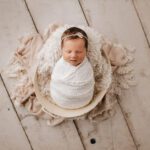 The dressing room is convenient for mom and dad to change into their clothing before the family photos. I also have several dresses available for clients to use, as well as some 6-month and 12-month baby girl rompers.
The Cary/Raleigh Baby Photo Studio is located just a few blocks from downtown Cary! Right around the corner is Urban Park- which is perfect if you want to bring your toddler over to get their wiggles out when their portion of the session is over. You can also go grab a bite to eat at Big Dom's Bagel Shop, or grab a coffee at BREW or Esteamed Coffee and bring it back to the studio.
Are you interested in booking a Raleigh baby studio session? Contact Laura today to inquire about availability!
Laura Karoline Photography is a maternity, baby, newborn, and family photographer located in Cary, NC. Serving Raleigh, Durham, Apex, Holly Springs, and beyond.